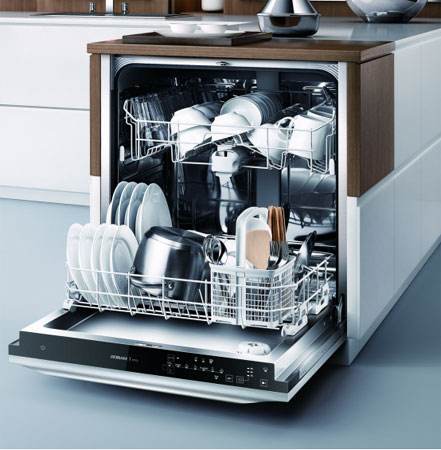 The main parts of the dishwasher are made of steel and plastic. The basic structure consists of steel frame components and steel door panels. Stainless steel plate is purchased and processed in the factory according to the required parts and shapes; independent door and surround cabinet are purchased with coil steel plate, and have been pre processed in several standard colors. Other small steel parts are designed in-house but manufactured by the supplier to the manufacturer's specifications.
The shelves for the dishes are also made of steel, but are shipped to the factory in the form of coiled steel wires. To coat the rack to prevent scratching the rack, immerse the rack in plastic in the form of powdered polyvinyl chloride (PVC) or nylon.
The inner box that holds the rack and the arm of the washing machine is called the bathtub. It is a single piece that is injection molded in the factory (excluding the door liner). Injection molding is accomplished by calcium reinforced polypropylene plastic granules. This plastic is respected for its strength and inertia. That is, it does not react with chemicals in detergents and is water and heat resistant. Many other components, including the cutlery basket, detergent container, scrubber and spray arm, are also molded.
The temperature sensor made of NTC thermistor can detect the temperature in the dishwasher and make corresponding instructions according to the temperature of each stage. Therefore, it is easy to monitor the dishwasher and detect when the specified temperature is reached through NTC thermistor.